The ShadowStand
Invisible bike stand that fits in your back pocket to help you capture your beloved machine in any picturesque landscape.
SHOP NOW
ShadowStand X
Even an invisible bike stand can make a statement! If you are a cycling club, a team, a shop or anyone really, looking for a touch of uniqueness, get in touch to personalize your ShadowStand. A logo can be engraved on the stand and printed on the packaging, whose colour you can chose from a variety of recycled papers.
MORE INFO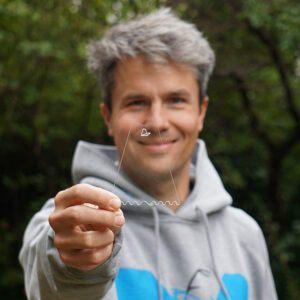 The Story
As a cycling addict, I love to capture the scenery and my bike during my rides, but there won't be a lamp post or fence everywhere to lean the machine against...and they are not the most interesting additions to a picture either. Looking for the solution to take pictures in a free-standing position, I invented this bike stand that is featherweight, fits into your rear pocket and is almost invisible on pictures. The stand and the packaging is designed in a way that I am able to produce them all by myself. As I run a workshop making architectural models with a laser cutter in-house, absolutely no mass production is involved. The stand and the packaging are both made out of recycled materials, because I wanted to keep the project green, no matter how small.